FREE SAMPLE

EDITING TESTS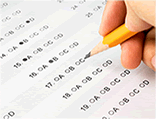 Editing Tests that you can take for free!
The free sample editing tests below are just small examples of the type of questions you will see on the actual editing tests that EditingTests.com provides. The actual editing tests available from EditingTests.com follow a rigorous, five-part process that tests all facets of the written English language.
If you have doubts about the thoroughness of our tests and their assessment reports, then Editingtests.com offers multiple free sample writing skills test for you to try. Take our editing tests for a demo round. We're confident they will not fail in their rigorousness.