Pricing:

Editing & Writing Tests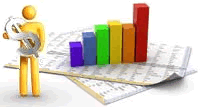 Price
Each Writing and/or Editing Test Package costs US $50.

Description
The following is included in every Test Package:
Candidate Testing Package
1. Three Randomized, Multiple Choice, Writing & Editing Tests
• TEST 1: Spelling, Capitals and Punctuation
• TEST 2: Verbs, Pronouns, Adjectives and Adverbs

• TEST 3: Sentence Structure, Sentence Punctuation, Clarity

2. Written Submission: spur of the moment, 250 words min., submitted via the testing process.

3. Three-Part Employee Assessment for Writing & Editing Skills

• PART 1: Test Scores — Incorrect, Not Answered, and Total Percent

• PART 2: Assessment — custom written by a professional editor, writer and teacher based on a close and personal examination of the candidate's writing & editing test scores and written submission (see below).

• PART 3: Written Submission — every candidate's written submission is closely checked by a professional editor for even the smallest error. All editor's markup, corrections, recommendations, and comments are included so you can see exactly what the problem is, if any.


What does that mean for my employee assessments?


The resulting report will be a professional evaluation of the test candidate's ability to write and edit English language documents. The employee assessment will indicate skill levels for things such as clarity, sentence structure, verbs, pronouns, adjectives, adverbs, and of course, spelling, capitals, punctuation and more.
In addition, each employee testing assessment you receive will contain a detailed, personalized evaluation of your employee's editing and or writing aptitude.
Finally, your employee's written submission will be attached to the report and then checked and marked by a professional editor. All editor's comments, markup and recommendations will be included in the report.
Make sure you have the right people in the right place doing what they do well — test your employees' editing & writing abilities here on EditingTests.com.