REGISTER

FOR EDITING TESTS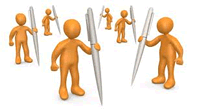 Register your contact information below for the editing tests, employee testing, employee assessments and employee evaluations. Simply fill in ALL fields and any additional comments or questions and click "Register Now!" Submission of this form is NOT a commitment. This is only the preliminary step to get you started. After discussion with you, once we have your editing test package arranged, we will be in touch with the details of your testing package (Login and password info for each candidate, location of the test, test instructions, etc.).
Registration

Form

All fields are required
There are errors in your form submission.