SAMPLE EXAMS FOR

PROOFREADER TESTING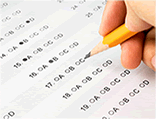 Proofreader testing examinations that you can try at no charge!
Below, you will find some sample examinations of our proofreader testing process that will help you get a feeling about the actual tests used at ProofreaderTesting.com. You will see that our five-part evaluation process is a rigurous procedure, that thoroughly tests the proofreader's command of the written English language. .
Test how our five-part proofreading tests and evaluation process will assess your candidate's skill set and competency levels. At Editingtests.com you have the chance to try our proofreading test sample at no charge, and make informed business relevant decisions.